Only with Captain Satch and Sons............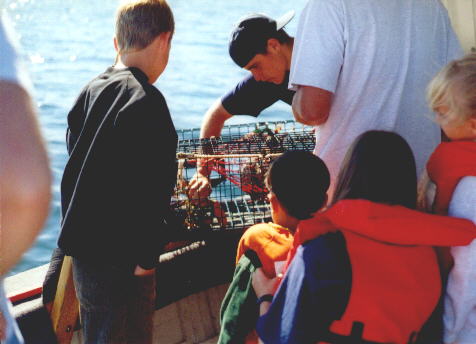 The IGFA Jr. angler world record for striped bass was caught on the Gath III, by a young man from Dallas TX. in July of 1998, were proud of this accomplishment and congratulate Walt Jr. for his fine catch.
We are active in the State of Maine Dept. of Marine resources recreational anglers survey program. All striped bass boarded are measured and recorded by the captain to help insure the future of this fishery.
We encourage the release of fish;in fact over 70% of all stripped bass caught are released unharmed. If fish are of the legal size limit, this is completely at the anglers discretion. There are plenty of fish in the 20 to 26" size bracket, so that most anglers are able to have supper, without hurting the fishery at all. In addition stripers over 40" may be kept. Keeper fish are filleted or properly prepared for mounting as part of our service to you.
The thrill of striped bass fishing is to catch a Maine State Trophy fish on light line. . Fish over 25lbs are recognized, and the state of Maine presents Tackle Buster awards. We try hard to catch big fish for your family, over *50 trophy stripers were landed by our guests in the last five seasons..........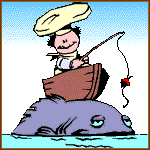 Pictures of your largest fish are taken by the captain and are sent to you at no additional cost. You may and are encouraged to bring your own camera, if you desire, but a good picture is the Captains way of thanking you for fishing with us.
We provide first quality salt-water fishing equipment, poles, reels, bait and the expertise required to insure that if you catch a trophy, you will have a good fighting chance of landing it. Of course your welcome to bring your own poles tackle, and expertise and it will be respected.
While we specialize in striped bass fishing we also have the equipment on board to target bluefish in season. Our newest vessel the "India Marie" is set up to travel up to 25 miles offshore where our guests can enjoy a full day offshore fishing for haddock, cod, shark and the occasional halibut. This has given families that began fishing inshore with us over the last five years a chance to experience excellent offshore sport fishing!

" India" in foreground, with "Gath III" on dock forward...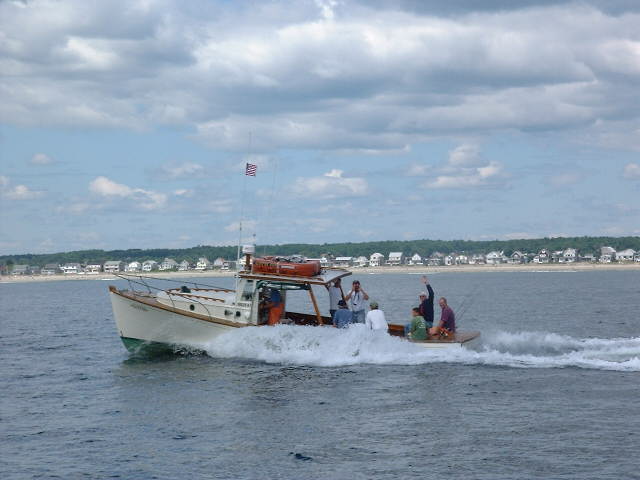 The Gath III is a classic 33' Downeast cruising yacht built in 1944 in Bailey Island, Maine. In 1956 she began taking fishing parties from Perkins Cove under the direction of Captain Bobby Coombs and his wife Agatha. In 1995 Captain Satch and his sons began refurbishing the boat with Gath's blessing and the help of local Maine craftsmen. A new Vovlo/Penta marine diesel was installed in "2000", and she has been nicely finished. Safety gear exceeds rigid USCG standards. New state of the art electronics include a 16 mile radar, chartplotter, GPS navigation system, color fish finder, VHF radio and a digital cell phone. She has a comfy head, spacious fishing platforms fore and aft and a sheltered cabin area with side curtains to insure our guest's comfort.

Big fish, family Fun
Catch the Magic!