Fast and furious !

Despite the coolest July in at least 10 years, our guests are having a great time. Both

"India and Gath"

are running hard every day and the fishing continues to be excellent

both inshore and offshore.

The Blue fish arrived in great numbers this week, that slows the striper bite down a bit, but it makes for some fast and furious blue fish action inshore.

Offshore fishing continues to be the best its every been for us, we continue to catch some nice size cod, a few quality haddock and the pollock also seem to be moving into the area early this season.

Keith has rigged up an 18 foot outrigger, so we have the new capability of trolling for the big ca"TUNA" if we have the good fortune of seeing a school of Blue fin on our offshore forays.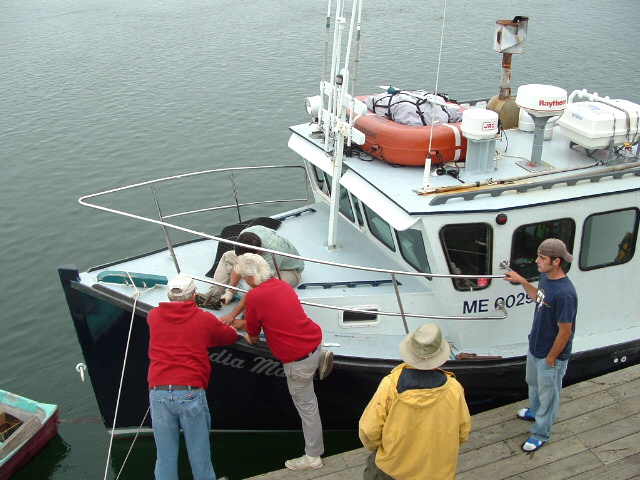 Paul Wallace

our welder has completed the fabrication of the new bow rail on

"India"...

a very special place to cast a jig or a fly!!!
Last night we completed the installation of our new bow rail, Captain Whit can't wait to get offshore to try it out tommorrow......(left to right)

2nd mate Bob Demers, Captain Den and Keith, Paul Wallace our welder and an anxious Capt.Whit

"What a thrill for me".

It's quite an accomplishment for the

"Satch and Sons Crew"

to have come so far in a few short years..

Thank you'all so much for your support and for the confidencee youv'e shown in us over our first eight years.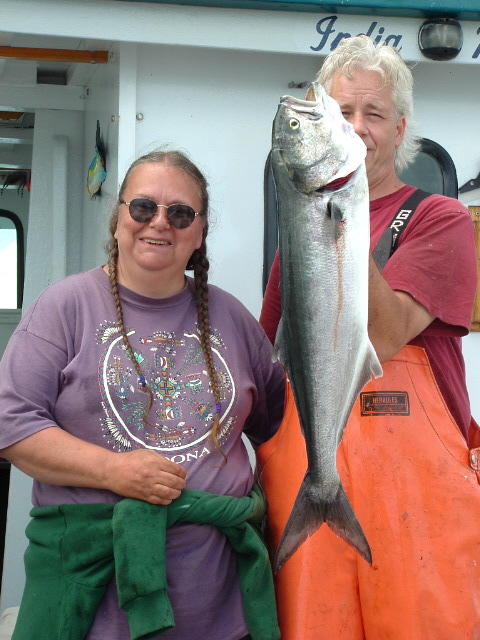 Lisa "Snowie Owl "Quinn

and Keith (left) with one of her 10 pound blue fish.

It's always great fishing when Lisa is aboard, her good spirit attracts great quantities of fish to the Gath III or the India Marie, then we just have to land them.

Captain Den leads all the captains in Maine this Blue fish season. On Sunday's trip

Bernadette Whitcomb (VT)

landed the seasons largest 12 pound blue...

Congradulations Bernadette!






The Richard Brothers (MA)

fish have with us every season for the last seven years...I remember when Shawn was just three year old,, our youngest angler at the time.

Rob, Andrew and Shawn

all caught keeper stripers on Tuesday's trip with Capt Den. "Left to right"

Rob, Andrew and Shawn with Shawn's 26.5 Inch bass.

1st Mate Joe Godin

(NH) helps

Steve Fabriano (NH) hold up his 37.5 inch 17 pound striper

.

It's great fun for families to be able to catch these great fish without having to travel so far offshore...








Me "ole mate" and good friend

Dwight Mailing "Fl"

took a day off from his Air Force duties to spend on the "India Marie".

Dwight is one of the brave and selfless folks that are giving their all to protect us during these troubled times

.

We were really honored to have him aboard for the day thanks in part to the generosity of the Lamb Family.

Dwight with his 20 pound cod "left" and 12 pound wolfish

"right". Dwight was also good friend of my daughter India, I think she might have brought him a little special luck!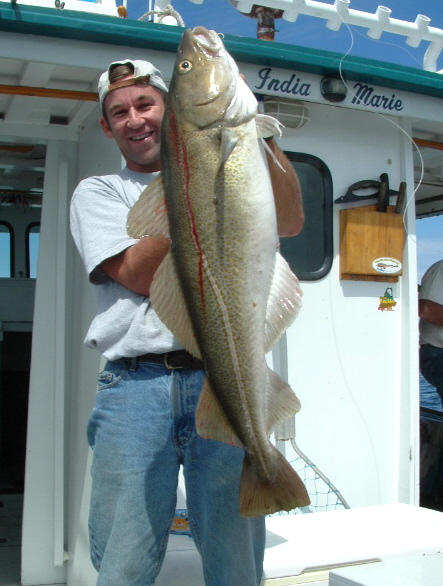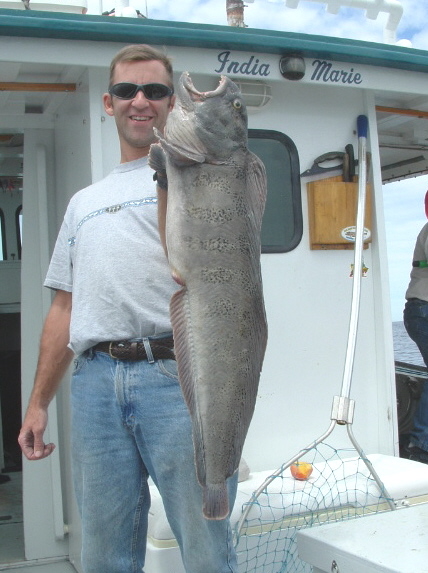 The girls of the Lamb Family (NY).

Trish driving India home after a great offshore adventure, 9 year old Marilyn in front, Tara in background and Amber on the right.

These

"NY State Dairy Princesses"

were brought up as hard working dairy farmers in upstate New York. Don't let their beauty fool you, they are some of the most able, strongest, fisher girls you'll ever see. They can out fish just about anybody no matter how deep the water is. They usually want to go with my sons Den and Whit, but always humor me with a fun day with the old man offshore.. Amber with a double catch of redfish, and her pool winning 8.5 pound Blue, and Tara center with a nice market cod....