Aboard our inshore fishing trips: 2014 Trip Offerings

Departing daily...Call (207) 475- 4676 or (207) 703-3631 (office) for reservations!

Catch the Magic€™© aboard the Gath IV, our newly retrofitted, pristine conditioned, USCG inspected vessel certified to carry a maximum of 12 passengers. The "Gath IV" departs daily and offers our most popular four and six hour fishing trips for stripers, blues and mackerel. We do our utmost to provide your family with a special experience on the ocean and very often the largest fish of their lives as well!



We offer two, four and six hour inshore trips for mackerel, stripers and blues every day during the busy summer season. Our four hour trip is a very reasonably priced trip for families on vacation.You can purchase spots on an individual basis, we'll do our best to place you with another family with no more than 10 guests aboard on your special day!

2019 season per person rates:

4 hour trip is $85 per person

6 hour trip is $95 per person



Prefer to charter the "Gath IV"?

Price includes trip for up to the 10 guests of your choice!

4 hour charter is $695

6 hour charter is $895

**************************************************************
Our 2 Hour family discovery fish and cruise!

The "Classic Gath III" Our first charter vessel!

Our two-hour trip offers your family a truly unique experience. You will board one of our vessels where we'll teach a crash course in" Fishing 101", then do our best to catch the kids a few mackeral,stripers and blues. Our Maine tidewater guide will help you spot harbor seals, and shorebirds as we pass alongside the "Rachael Carlson" Federal Wildlife Reserve. On most days you can observe lobstermen at work, and even pull a lobster trap or two to see what's inside! Lobstering is prohibited by state law on Sundays! A licensed USCG captain and an experienced 1st mate will be on hand and happy to help and guide you with the fishing equipment needed to thoroughly enjoy your trip.

Prices are for Charters only:
6 people for $250

8 people for $275

10 people for $300


**************************************************************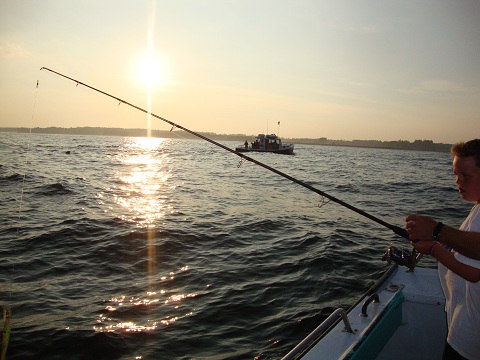 2 1/2 Hr Dawn Breaker Striper Charter:
Feel the need to get up early on vacation! Serious anglers can catch a Maine coast sunrise and enjoy the day's first bite with one of Maine's premier striper guides. Make it back to camp before they even know your gone!
5am to 7:30am daily
$300 for charter group of 4 guests.

"Inshore Charters" aboard the F/V India Marie
(6 person's Max)

It is suggested that guests requesting six person inshore charters aboard the "India Marie" make their reservations as soon as they are sure of their vacations plans...
4 Hour inshore trip $525 Charter
6 hour inshore trip $675 charter
All trips leave from the town dock @ Wells Harbor,Me.