2014 Trip offerings "Offshore aboard the F/V "India Marie "


We offer premier offshore trips on our offshore vessel the "India Marie" with just six anglers aboard. These are all full day trips, we recommend a full 10 hour day as it takes an average of two hours to reach the fishing grounds.

The "India Marie" is a very safe and stable vessel, and she's nicely equipped to safely travel up to 25 miles offshore. We strive to catch large ground fish; cod, haddock, pollock, wolfish, cusk and hake. We also enjoy and are federally licensed and equipped to target various species of shark, and Blue fin tuna upon request.

The fishing is primarily aggressive deep-water ground fishing, with quality salt water weight tackle. We're very pleased that we can offer you the opportunity to experience deep water recreational ground fishing, with the best personal service on a professional quality offshore boat with a maximum of six anglers aboard.
10 hour Full day Charter $1085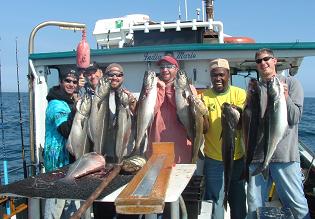 Fair Weather Fishermen's 2014 Edition
We also offer 10 hr *open boat* offshore trips every Friday throughout the season. It's another chance to travel offshore without being part of a charter. These trips are all 10 hour days, weather permitting, so that we can venture far and wide
10 hour offshore trip for individuals every Friday throughout the season!
Everyone is welcome. $ 185 Per Person
There are just six anglers maximum on all of India's Trips!
**************************************************************
Offshore charters aboard the F/V Gath IV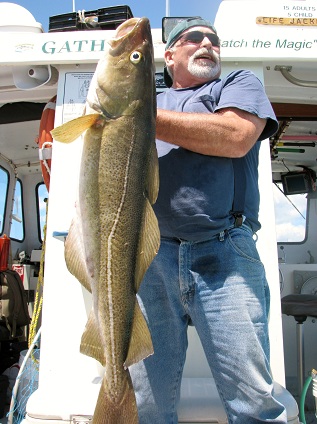 "The Gath IV " also has the capacity to join the "India Marie" taking guests offshore fishing for cod, haddock, pollock and shark. This summer we will offer both "family oriented" half- day (6 Hour) deep sea fishing trips.A big hit and a lot of fun for the kids!
6 Hr charter $895
8 Hr charter $1275

Aboard Gath IV we fish a maximun of 10 anglers. By USCG rules we can take a maximum of twelve passengers, so that on your charter you can bring two additional persons if you wish as"riders". Riders are welcome to share a pole and be part of the fun. There is a fee of $25 additional per rider.