Captain Tom Corbett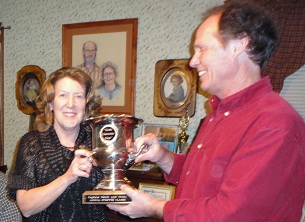 Captain Tom joined our ranks in the summer of 2009. Tom recieved his bachelors degree from Long Island University (NY) before going on to receive his commercial diving credentials. He was working the rigs in the Gulf of Mexico about the same time I was working shore side in New Orleans. Tom is a close friend and adviser as well as a superb captain aboard both the Gath IV and the India Marie. Captain Tom is also our most experienced offshore captain having spent over 14 years more than thirty five miles off the Maine coast commercial lobstering in the long rough winter...experiencing weather even that I can't imagine.

Captain Tom winner of the 2011 "Gath Coombs SilverTrophy cup" for landing the largest striper of the year, seen here making the presentation to Ms. Jodi winner of the coveted cup for the 2012 season.

Captain Tom also a very experienced charter captain spending 10 years of his summer Sundays as Captain of Maine's best party boat the "Bunny Clark". Most importantly Captain Tom is the kindest captain on the Maine coast. In the 23 years I've known him I haven't once see him get upset or be anything but wonderful to a guest. If it's your families first time aboard you may want to request Captain Tom as your captain and guide.