On right Captain, Dennis McMahon shows off "Natalie Gilmette's" (CT) largest striper of the 2003 season.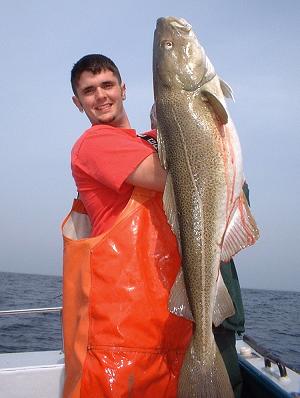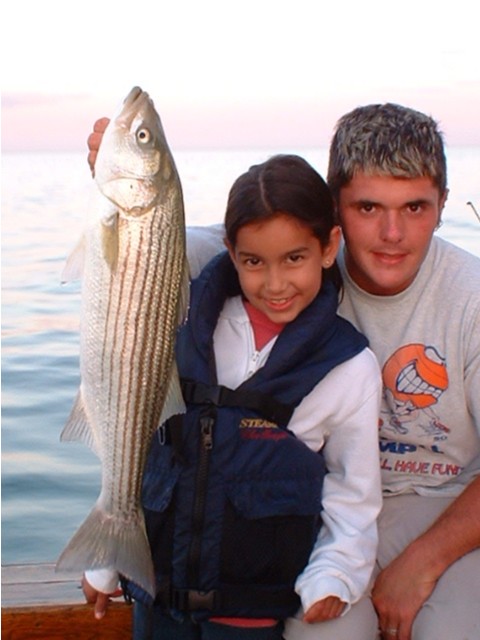 Captain Den is a graduate of Fitchberg State College in Massachusetts with a Bachelor of Science in construction management. Den wears a second "hard" hat as owner and project manager of his own company "McMahon Constuction Co. of So. Maine". Den designs and builds quality homes when he's not captaining the boats.
Dennis is a prankster, a lot of fun and a great boat handler and fisherman. Den received almost all of the mechanical ability in the family and whenever we need an engine installed, a pump replaced or a rod and reel designed we call on Den. He loves the challenge of engineering new systems for the boats. In addition, Captain Den has the innate ability to cast or land you on the fish. I get the feeling he's always striving hard being the youngest in the family. During the last few seasons he ran many of our successful offshore cod trips.
Captain Dennis was also born in New Orleans where he learned to fish on the Bayou's and along the Mississippi with Dad and Whit. He also had the good experience of mating for Captain Tim on the Bunny Clark in his formative years. You'll really enjoy a day on the water with Dennis, but keep alert for a trick or two..
Captain Den has his "50 Ton" Masters license, and his Maine tidewater guides license.
Capt.Den with Paulie Mier on a cool October day...